Your Local Pest Control Company in Manhattan, NY
Free Estimates on Professional Pest Control Services
The big city of Manhattan, NY, is known for being busy at all hours of the night. It's the city that never sleeps, and that means that pests are active around the clock as well. As sweet as the Big Apple may be, pest infestations are still a reality in NYC that home and business owners should know how to deal with. The best way to protect your Manhattan property from an infestation is to rely on regular pest control services from professionals, and you've come to the right place.
BHB Pest Elimination is your local source for quality pest solutions. We've been providing comprehensive residential and commercial pest control services since 1969, bringing a high level of expertise to every project we take on. Our family-owned and operated company works hard to develop long-term solutions that eliminate pest problems from the inside out. We're more than a pest control company; we're a pest elimination company. As we always say, "Don't settle for pest control, demand elimination."
---
Call us today at (201) 584-6931 or contact us online by filling out a short form to set up your initial inspection right away. We're proud to offer you free estimates!
Home Pest Control In Manhattan, NY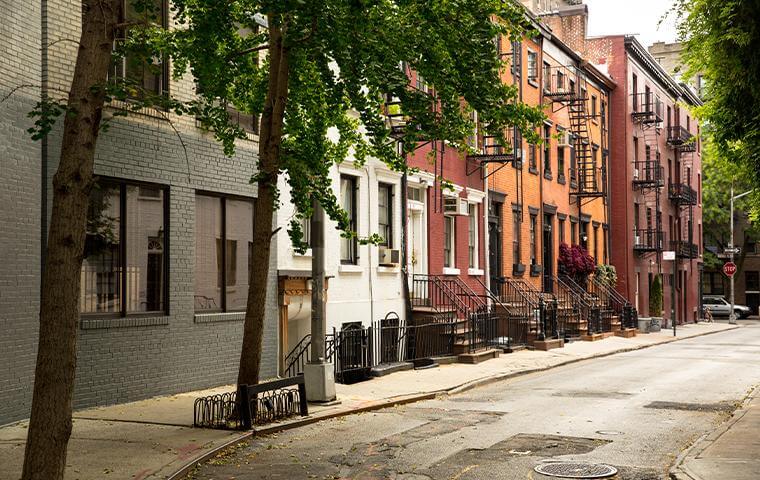 Here at BHB Pest Elimination, we understand the importance of protecting your loved ones from harm. Household pest infestations pose serious dangers to your health, safety, and property.
The most effective way to protect your house and your family from harm is to contact pest professionals. Our residential pest control services and maintenance plans provide homeowners with year-round protection from pests.
Starting with an in-depth inspection, we identify all problem areas, signs of life, harborage spots, and infestation sources. We then consult with the client and develop a proper treatment plan that is customized based on the needs of your property and your pest issues.
In addition to our general pest control solutions, we offer seasonal treatments for ants, termites, flies, stinging insects, mosquitoes, bed bugs, crickets, and rodents.
---
Get in touch with us at (201) 584-6931 or contact us online to hear more about our BHB home protection plans.
Commercial Pest Control In Manhattan, NY
Owning a business is a lot of work, and when pests enter the picture, it can become unmanageable. Commercial pest infestations pose a long list of threats to your property, employees, customers, and reputation. The most effective way to protect yourself from the dangers of pest activity is to rely on pest professionals. Here at BHB Pest Elimination, we offer complete commercial pest control solutions to a variety of local businesses and facilities.
No matter what type of business you run, we work with you to develop the most fitting approach to treat your facility from the inside out effectively. For example, we use a very strict IPM (integrated pest management) strategy for schools. We work with the superintendent to proactively plan and ensure everything is in place before starting treatment. Depending on your business property's individual needs, we schedule ongoing service visits weekly, bi-weekly, monthly, or quarterly. Reach out to us to get started.
What You're Doing To Attract Ants To Your Manhattan, NY Property
Ant infestations can quickly grow out of control. These tiny pests spread, increasing their colonies in large numbers. If you're wondering why ants invaded your space in the first place, it's important to recognize certain habits that could be attracting these little critters. Here are some things you may be doing to attract ants to your property:
Failure to eliminate damp, rotting wood from your property
Failure to tend to any cracks or gaps in the foundation
Forgetting to repair a water leak
Failing to repair torn window and door screens
Ignoring existing entry points like cracks and crevices in the walls and siding
Ignoring spills, sugary residue, and crumbs on the countertops or floors
Improperly storing your food and leaving pet food out
Leaving doors and windows open for long periods
Leaving sources of standing water in and around the property
Leaving the dirty dishes in the sink for too long
If you suspect an ant problem in your Manhattan home or business, the smartest thing you can do is contact the pest professionals immediately. Here at BHB Pest Elimination, we provide dependable ant control and prevention services that property owners can count on all year long. Give us a call today to set up your initial inspection, and we'll get started right away.
Are Bed Bugs Preventable In Manhattan, NY?
If you want to be proactive in your efforts to prevent bed bug activity, there are some things you can work into your routine. First, proper sanitation is essential, including eliminating clutter, vacuuming carpets and rugs, steam cleaning upholstery and cushions, and regularly washing and drying all clothing, bedding, and linens on high heat to kill any existing bed bugs.
Also, be sure to inspect any outside items that come into your home, especially secondhand items like clothing and furniture. You should also use protective encasements on all your mattresses and box springs. While these tips can help prevent bed bugs, the only sure-fire way to care for the problem is by calling in the pros. Here at BHB Pest Elimination, we're proud to offer effective, reliable bed bug control services that give you the peace of mind you need to sleep tight all night.
Using his years of experience and dedication to helping others, BHB Pest Elimination's owner Michael Broder not only puts an end to all your pests problems but advises on how to run your business as well!
Our Business Strategy
"RUN" Your Business! by BHB Pest Eilimination
Reliable
Pest Control Services
In business since 1969, BHB Pest Elimination is the best choice for complete pest elimination. Providing long-term solutions for homes and businesses, we find the source of your pest problem so that we can treat the root cause and not just the symptoms. When you choose BHB Pest Elimination, you don't have to settle for pest control; you can demand elimination because that's what we deliver.
"Very happy with the service and the follow-up to make sure we had a good experience. Jessy was great and always kept us informed of what he was doing and the next steps. I will defiantly use BHB for my Pest Control again."
Request a Free Inspection
Contact Us