Old Bridge, NJ Pest Control
Comprehensive Pest Control In Old Bridge, NJ
The township of Old Bridge is regarded as a peaceful, family-friendly place to live, with its clean parks, lush greenery, and sprawling suburban feel. The area is also brimming with globally-inspired eateries and quaint coffee shops, while also boasting close proximity to Manhattan. Residents of Old Bridge are, however, all too familiar with pest problems, given their prevalence throughout the year
At BHB Pest Elimination, it's our mission to help homeowners and businesses find relief from pests no matter what the situation looks like. With more than 50 years of experience, our team values the relationships that we build with all of our customers and we will always go the extra mile to ensure complete satisfaction. We are a Green Shield certified company and we follow Integrated Pest Management to truly prioritize safety on all fronts. To learn more about how comprehensive pest control can work to protect your Middlesex County property, contact us today.
Residential Pest Control In Old Bridge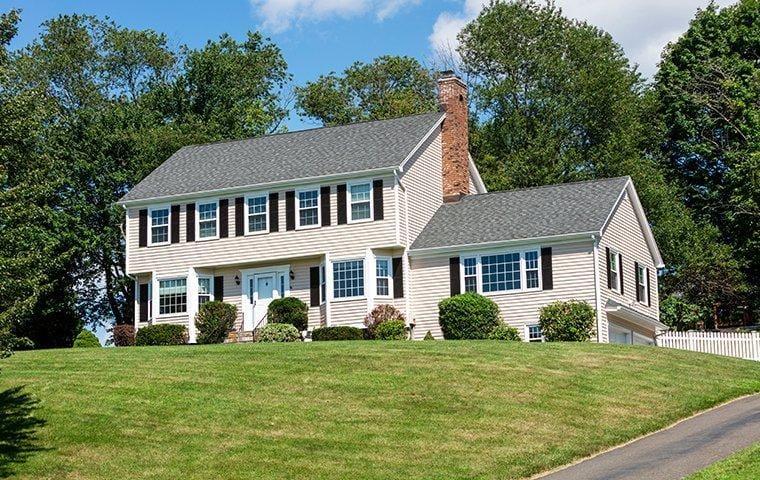 At BHB Pest Elimination, we want to see Old Bridge homeowners safe and protected from pests, whether you live in an apartment or single-family home. By following the methods of Integrated Pest Management, we focus on addressing the root cause of pest problems in order to completely eliminate them and keep them from coming back. This set of standards also means that all of the treatments that we deploy on your property will be safe for adults, children, and pets. Our general pest control services will always be customized to your needs and with routine maintenance throughout the year, we'll be able to ensure that pests will be dealt with swiftly.
Once we've gathered our findings from your initial inspection, we'll use a monitoring system in order to understand the full scope of your infestation and determine where any potential problems could arise. In addition to these programs, we offer targeted solutions for rodents, mosquitoes, wildlife, ticks, and termites. For more information on residential pest control, contact us today.
Commercial Pest Control In Old Bridge
One of the biggest threats that your Old Bridge business can face is pest problems. At BHB Pest Elimination, it's our mission to provide local businesses with the pest control services that they deserve. Our company is proud to be Green Shield certified, which means that we uphold rigorous safety and environmental standards in everything that we do. The method of treatment that we follow is Integrated Pest Management, which benefits your business in many ways. This protocol means that we customize every service we provide to your specific needs, focus on the environment around your property to provide treatment in the safest way possible, and create sustainable pest-free results that you can trust. We work with schools, restaurants, medical facilities, and more, and over 50 years, we've amassed a lot of knowledge that makes us uniquely qualified to work with you. Our commitment to your success doesn't stop there; we also provide all of our customers with reliable support and emergency services. For more information on commercial pest control, contact us today.
An Effective Rodent Control Guide For Old Bridge Property Owners
Rodent problems can be a year-round issue for Old Bridge property owners and when they occur, health risks and property damage are never too far behind. In order to effectively control these issues, try the following tips:
Fill all gaps around doors with weatherstripping, insert door sweeps where needed, and use steel wool or caulk for other openings and cracks.
Maintain a hygienic home by cleaning up thoroughly after crumbs and spills, disposing of clutter, and taking the trash out frequently.
Limit the amount of excess moisture around a property by using a dehumidifier, keeping crawl spaces ventilated, and fixing all leaks.
For the safest answer to rodent problems, BHB Pest Elimination has the solutions. We follow Integrated Pest Management methods in order to treat rodent issues, both current and future. This protocol means that we favor steps like exclusion, trapping, and baiting in order to address all concerns. For more information on rodent control, contact us today.
How Dangerous Are Bed Bugs In My Old Bridge Home?
You might find that bed bugs have invaded your Old Bridge home after a simple trip to the market or after taking the train. When this happens, there is a certain amount of concern that should be given to the issue. The primary issue that bed bugs pose to people is that they feed off of your blood while you're sleeping. The result of this is usually a series of tiny red bumps; however, certain people might find that they suffer from more severe allergic reactions or anaphylaxis.
When bed bugs infest your home, the best way to handle them is with professional help from BHB Pest Elimination. With more than 50 years of experience and strict adherence to Integrated Pest Management, we're able to completely eliminate an entire outbreak. We customize each treatment plan that we implement, but yours might entail some combination of steam heating, dust treatments, and HEPA vacuuming. For more information on complete bed bug removal, contact us today.
Using his years of experience and dedication to helping others, BHB Pest Elimination's owner Michael Broder not only puts an end to all your pests problems but advises on how to run your business as well!
Our Business Strategy
"RUN" Your Business! by BHB Pest Eilimination
Reliable
Pest Control Services
In business since 1969, BHB Pest Elimination is the best choice for complete pest elimination. Providing long-term solutions for homes and businesses, we find the source of your pest problem so that we can treat the root cause and not just the symptoms. When you choose BHB Pest Elimination, you don't have to settle for pest control; you can demand elimination because that's what we deliver.
"Very happy with the service and the follow-up to make sure we had a good experience. Jessy was great and always kept us informed of what he was doing and the next steps. I will defiantly use BHB for my Pest Control again."
Request a Free Inspection
Contact Us