Fort Lee, New Jersey Pest Control
Effective Pest Solutions For Fort Lee, NJ Properties
Fort Lee is perhaps one of the most sought-after metro areas in New Jersey. This thriving city is connected to Upper Manhattan and downtown New York City by the iconic George Washington Bridge. The churning Hudson River is one of the area's greatest landmarks, bordering the town on its easternmost face. Almost 40,000 people currently use Fort Lee as a bedroom community, enjoying the best of both worlds as they commute into the metropolis for work, school, and play. The city of Fort Lee is almost synonymous with New York City (NYC), sharing many of its unique architectural elements, customs, and businesses. Another frequently shared aspect includes the presence of pests, which commute between NYC and Fort Lee via unsuspecting travelers.
Homeowners, business owners, and property managers here in Fort Lee are constantly under threat of a pest siege, dramatically lowering their quality of life. This all changes with the work of BHB Pest Elimination. As the primary pest control professional of New York City, our 50 years of work in the industry gives us a leading edge against other competitors in the field. No professional work is too big, and no infestation is too small for our team to create an actionable change in your life. Why wait? Call BHB Pest Elimination to choose the pest control plan that's right for you.
Home Pest Control In Fort Lee, NJ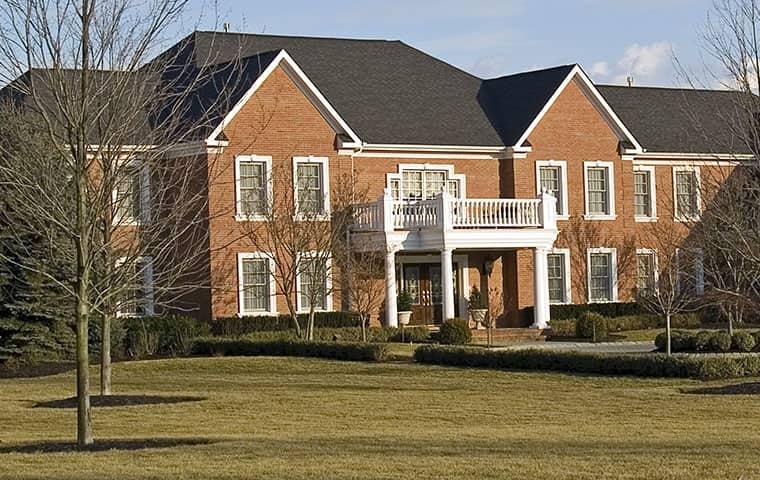 No matter how safe you feel in your Fort Lee home, your ability to get a pest infestation is still very real. There is no end to the threat of pest infestations and their associated dangers, from rodents and mosquitoes to bed bugs and roaches. With BHB Pest Elimination, residential homeowners feel safe, secure, and protected against the unwanted effects of past activity. Since 1969, our dedicated team has been crafting a pest control roster that meets every homeowner's need.
Our residential pest program was designed to help homeowners at any stage of infestation. Here are just a few of the benefits associated with our award-winning Home Pest Protect 365 Platinum plan:
At least four quarterly services per year
Professional mosquito and carpenter ant control
Rodent abatement services
Pest Free Guarantees
40+ pests covered by one single plan
Act now to confirm your residential pest control plan with BHB Pest Elimination. We've got your back!
Commercial Pest Control In Fort Lee, NJ
Pests that infest businesses are notorious for property destruction, the spread of disease, and the ongoing threat of additional pests. If you own a business or work anywhere around the Fort Lee area, the chances are you are subject to pest infestations at all times of the year.
Instead of addressing pests only after their appearance, the team at BHB Pest Elimination combats dangerous species by preventing, treating, and diminishing them in the first place. No matter what industry you serve, trust that BHB Pest Elimination can protect your property and customers with a few short treatments. Below are a few specialty services offered to commercial pest control customers:
Ant Control
Bed Bug Control
Fly Control
Rodent Control
Termite Control
Wildlife Control
Learn more about BHB Pest Elimination and the clients we serve. We are looking forward to getting back to you as soon as possible!
The Trick To Keeping Mosquitoes Away From Your Fort Lee Property
It's not hard to see why mosquitoes are the most common pest in Fort Lee. Cropping upon any property at any time, these blood-drinking nuisances are unwanted by home and business owners alike. If you want to keep your family safe while simultaneously enjoying your property this year, follow these helpful mosquito tricks:
Remove all unnecessary standing water from the premises. This includes draining birdbaths, fountains, and toys or tarps.
Treat all stagnant water sources with a mosquito larvicide. This will prevent recurring cycles of mosquitoes from infesting your property.
Contact the reputable team at BHB Pest Elimination for mosquito abatements during the active mosquito season.
We are committed to helping you thrive. Call our Fort Lee office to connect with a representative in your area.
Everything Fort Lee Homeowners Need To Know About Rodent Infestations
Rats and mice are considered the most common household pests in the United States. Despite their fluffy and almost lovable exteriors, there are many things homeowners don't know about these dangerous animals. Here is everything Fort Lee homeowners need to know about rodent infestations:
Female rodents produce over 300 offspring in their lifetime.
The majority of rodents can fit through holes the size of a quarter.
Rodents can spread life-altering diseases, including hantavirus.
Allow the team at BHB Pest Elimination to successfully implement a rodent protection plan for your Fort Lee home. We are standing by to take your call at any time.
Using his years of experience and dedication to helping others, BHB Pest Elimination's owner Michael Broder not only puts an end to all your pests problems but advises on how to run your business as well!
Our Business Strategy
"RUN" Your Business! by BHB Pest Eilimination
Reliable
Pest Control Services
In business since 1969, BHB Pest Elimination is the best choice for complete pest elimination. Providing long-term solutions for homes and businesses, we find the source of your pest problem so that we can treat the root cause and not just the symptoms. When you choose BHB Pest Elimination, you don't have to settle for pest control; you can demand elimination because that's what we deliver.
"Very happy with the service and the follow-up to make sure we had a good experience. Jessy was great and always kept us informed of what he was doing and the next steps. I will defiantly use BHB for my Pest Control again."
Request a Free Inspection
Contact Us