Effective Pest Management For Hoboken, NJ Properties
Just across the river from the big city, the community of Hoboken, NJ, is a vibrant, thriving place with a lot going on. With so many people around town, there are ample food, water, and shelter sources, attracting pests to local properties big and small. The best way to protect your Hoboken property from the dangers of a pest infestation is to get in touch with a qualified team of certified pest experts, and that's where we come in.
The team here at BHB Pest Elimination is dedicated to providing quality customer service, and we work hard to maintain strong customer relationships that last for years to come. Since 1969, our family-owned and operated company has provided long-term pest solutions that eliminate the issue at its core. We are proud to service properties throughout the NYC metro area, including New Jersey, Long Island, Westchester, and Pennsylvania. Reach out to us today and book your detailed inspection right away!
Home Pest Control In Hoboken, NJ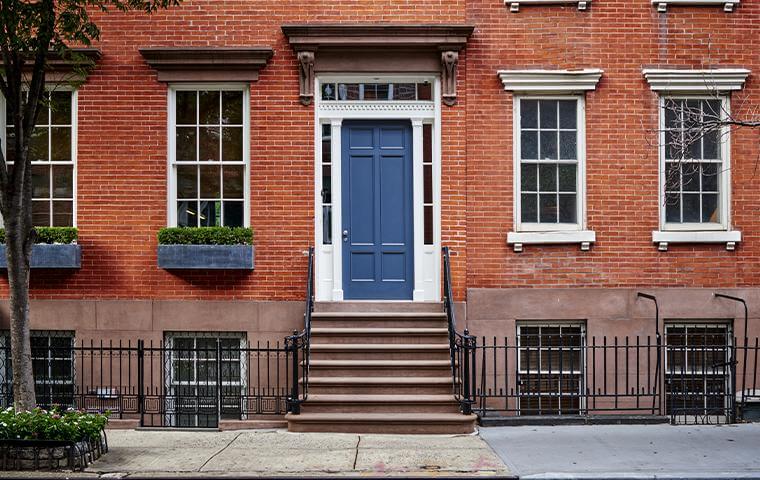 If you want to guard your home and your loved ones from the detriments of pest infestations, there's only one way to go. Contacting pest professionals is the most effective way to deal with pests, and the team at BHB Pest Elimination is here to serve you.
Our residential pest control services give you the year-round pest protection you and your family deserve. We protect Hoboken homes from a long list of common pests, including ants, rodents, flies, mosquitoes, bed bugs, termites, crickets, stinging insects, and pantry pests.
Our team of highly trained pest experts uses trusted IPM (integrated pest management) solutions to target the infestation source, treating the problem proactively, not reactive.
Get in touch with us today to hear more about our BHB home protection plans and how they can guard you against harm all year long.
Commercial Pest Control In Hoboken, NJ
Hoboken has a pretty competitive commercial scene with excellent restaurants and upscale shops lining the streets. That means you need to work extra hard to keep your business up to par with the rest. Maintaining a positive reputation is crucial, and nothing threatens your good name, quite like a pest infestation. The best way to protect the future of your business is to secure ongoing services from pest professionals.
The team at BHB Pest Elimination provides complete commercial pest control solutions to a long list of facilities, including hotels, restaurants, bars, warehouses, office buildings, schools, and doctors' offices. After conducting a thorough interior and exterior inspection of the premises, we develop a customized treatment strategy to target your infestation. Once we finish treating the area, we return for ongoing services weekly, bi-weekly, monthly, or quarterly, depending on your needs. Call us today to set up your initial inspection right away.
Guide To Preventing Rodent Activity In Hoboken, NJ
If you want to protect your Hoboken property from a rodent infestation effectively, you can take a few preventative measures. Many of these tips have to do with maintaining proper sanitation around your property. Rodents gravitate to spills, crumbs, residue, garbage, and all kinds of food. That's why it's essential to eliminate access to food sources. You should also take the trash out regularly and keep it stored outside in tightly sealed metal containers. Use gnaw-proof containers to store food and eliminate sources of excess moisture throughout the property. Also, be sure to seal up cracks, crevices, and other potential entry points.
Being proactive in your rodent prevention efforts can go a long way, but none of these tips are as effective as professional pest control services. The best plan of action is to call the team at BHB Pest Elimination. Our rodent control and prevention services give you the year-round protection you need to feel safe and sound on your Hoboken property.
The Dangers Of Termite Infestations In Hoboken, NJ
Termites are often misidentified as ants; however, they're much more dangerous. Termites are wood-eating pests that feed on your property's structural timbers, weakening the construction from the inside out. Termite damage is a serious threat that all property owners should be aware of. Termites feed on cellulose, most notably wood. As they feed on and build their colonies inside your wooden structure, the entire building becomes damaged and erodes over time.
Most homeowners insurance doesn't cover termite damage. That means that the already high termite repair costs can become even higher. The NPMA estimates that U.S. home and business owners spend five billion dollars on termite repair and prevention every year. The best way to protect your property from the detriments of a termite infestation is to call in professionals right away. BHB Pest Elimination provides complete termite control and prevention services that you can rely on all year long. Reach out to us today to get started.
Using his years of experience and dedication to helping others, BHB Pest Elimination's owner Michael Broder not only puts an end to all your pests problems but advises on how to run your business as well!
Our Business Strategy
"RUN" Your Business! by BHB Pest Eilimination
Reliable
Pest Control Services
In business since 1969, BHB Pest Elimination is the best choice for complete pest elimination. Providing long-term solutions for homes and businesses, we find the source of your pest problem so that we can treat the root cause and not just the symptoms. When you choose BHB Pest Elimination, you don't have to settle for pest control; you can demand elimination because that's what we deliver.
"Very happy with the service and the follow-up to make sure we had a good experience. Jessy was great and always kept us informed of what he was doing and the next steps. I will defiantly use BHB for my Pest Control again."
Request a Free Inspection
Contact Us