Pest Control Solutions You Can Trust In Yonkers, NY
Yonkers, NY, is the gateway between New York City and the Hudson Valley. Located along the Hudson River, our downtown waterfront offers beautiful views of the Hudson and the Palisades. With a population of around 200,000, Yonkers is the fourth largest city in New York, and it continues to grow to this day. The bad news is that as human populations grow, so do pest populations. Your Yonkers property is in danger of experiencing a pest infestation, and it's a good idea to secure professional pest protection.

BHB Pest Elimination is here to help. We've been providing comprehensive residential and commercial pest control services to Westchester County and the surrounding areas since 1969, bringing a high level of expertise to our valued clients. Our approach to pest control is to treat the problem proactively, not reactively. We're proud to service properties throughout the NYC metro area, including New Jersey, Long Island, Westchester, and Pennsylvania. Get in touch with us today to discuss your pest control needs.
Residential Pest Control In Yonkers, NY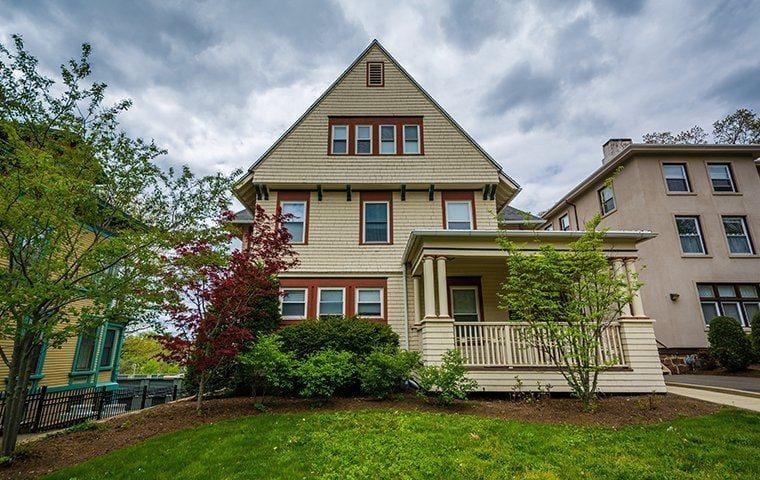 The idea of pests in your home is an absolute nightmare, and infestation is something no homeowner wants to face. The bad news is that it's common in New York, and it presents several threats to you and your family. Your Yonkers home is vulnerable to household pest activity, and we're passionate about protecting your home from infestation.

As a family-owned and operated company, we understand the importance of protecting those you love. At BHB Pest Elimination, our residential pest control services give you the year-round pest protection that you and your family deserve. We work hard to develop long-term solutions that eliminate pest problems from the inside out.

Our team of seasoned residential pest professionals treats every customer with personalized services because we know that no two infestations are precisely the same. We provide quality customer service, and we work hard to maintain strong customer relationships that last for years to come. Reach out to our team today to discuss your residential pest control needs; we're eager to help.
Commercial Pest Control In Yonkers, NY
Commercial pest infestation poses a severe threat to your facility, customers, employees, and overall reputation. That's why we recommend ongoing services from commercial pest professionals. We provide comprehensive commercial pest control solutions to a long list of facilities, including hotels, restaurants, bars, warehouses, office buildings, schools, and doctors' offices.

After conducting a thorough interior and exterior inspection of the premises, we develop a customized treatment strategy to target the nature of your infestation specifically. We deal with many common household pests, some of which include ants, rodents, flies, mosquitoes, bed bugs, termites, crickets, stinging insects, and pantry pests. As we always say, "don't settle for pest control, demand elimination." Call us today to set up your initial inspection.
How To Know If There Is A Bed Bug Problem In Your Yonkers Home
It can be challenging to detect bed bug activity for a bed bug infestation, as they're nocturnal. Because they feed on our blood while we are asleep, it makes it hard to catch them in the act. However, there are a few telltale signs to be on the lookout for:
Brown spots of excrement found around beg bug hiding places.
Discarded eggshells and shed skin found around hiding places.
Finding a line of tiny red bites on your body that wasn't there when you went to sleep.
Red bloodstains found on bedding and linens left behind after feeding.
If you discover any of these signs, it's essential to contact the bed bug control professionals as soon as possible. BHB Pest Elimination is here to identify all bed bug activity and eliminate the infestation from every corner of the house. Call us today to protect your Yonkers home from bed bug infestation.
Why Pest Wildlife On Your Yonkers Property Can Be Dangerous
There are a lot of consequences that come with wildlife activity, and as a local property owner, you should be aware of these dangers. From raccoons and opossums to deer and skunks, many wildlife species in the area pose a threat. Here are just some of the consequences of wildlife infestation:
Contamination through urine and feces.
Costly property damage.
Destabilization of structure.
Destruction of the yard or garden.
Nesting within the home.
Noise and scavenging behavior.
Scattering of garbage and trash.
Transmission of harmful diseases.
If you want to protect your property from the threats of wildlife infestation, the best thing to do is secure ongoing services from pest professionals. Here at BHB Pest Elimination, we work hard to keep wildlife activity away from local homes and businesses, and we'll customize a wildlife control plan just for you. Call today to learn more.
Using his years of experience and dedication to helping others, BHB Pest Elimination's owner Michael Broder not only puts an end to all your pests problems but advises on how to run your business as well!
Our Business Strategy
"RUN" Your Business! by BHB Pest Eilimination
Reliable
Pest Control Services
In business since 1969, BHB Pest Elimination is the best choice for complete pest elimination. Providing long-term solutions for homes and businesses, we find the source of your pest problem so that we can treat the root cause and not just the symptoms. When you choose BHB Pest Elimination, you don't have to settle for pest control; you can demand elimination because that's what we deliver.
"Very happy with the service and the follow-up to make sure we had a good experience. Jessy was great and always kept us informed of what he was doing and the next steps. I will defiantly use BHB for my Pest Control again."
Request a Free Inspection
Contact Us