Eatontown, NJ Pest Control
Effective Pest Solutions For Eatontown, NJ Properties
The borough of Eatontown, NJ, is historically known as a mill town. In modern times, however, it is home to just under 13,000 residents, and those who live here enjoy a great school district and easy access to the freeways. Eatontown is becoming more of a hot spot for business owners since so much traffic is coming off the two highways that run through the borough. Unfortunately, this growing metropolis of humans also means the pest populations are increasing, making Eatontown pest control a much more prominent need for residential and commercial spaces.
Here at BHB Pest Elimination, we have served Eatontown and the larger Monmouth County region since 1969. This longevity has given us an edge over other pest control companies in the area. We are more intimately familiar with all the different kinds of pests that invade homes and businesses here. On top of excellent customer service and extensive knowledge of local pest behavior, our goal is to eliminate your pest problems completely, not just mitigate them.
Home Pest Control In Eatontown, NJ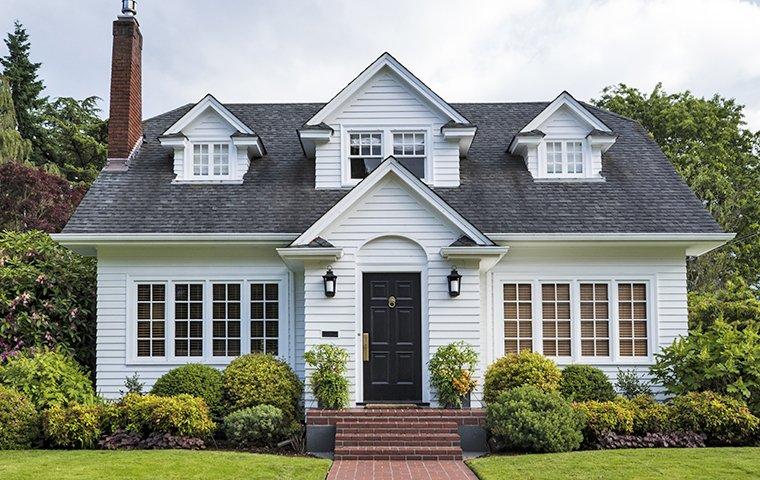 Residential pest control is essential for homeowners in a growing borough such as Eatontown. Nothing shatters your sense of security quite like finding that disease-ridden pests have infiltrated your house and are damaging your property. At BHB Pest Elimination, our residential pest control services include:
Inspection: An expert technician always starts by performing a thorough inspection of your home and yard to understand what exactly you are dealing with.
Treatment: Based on the information gathered during the inspection, the technician will put a treatment plan together that is customized to fit your needs then deployed on both the interior and exterior of your home.
Follow-ups: To protect your home year-round, we offer quarterly follow-up services. These service visits allow the technician to implement prevention strategies to keep out seasonal pests.
Our goal is always to eliminate your infestation in its entirety permanently. We use the highest-quality, most advanced treatment tools available on the professional market, and we pride ourselves on our ability to eliminate pests at their source. If pests have invaded your home, don't wait; give us a call today, and we'll help you gain your sense of security back!
Commercial Pest Control In Eatontown, NJ
For business owners, commercial pest control services should be a top priority. As more people flock to Eatontown, it becomes a question of when you get a pest infestation, not if. And when you do, BHB Pest Elimination is on standby, ready to assist the following types of businesses with all their pest control needs:
Restaurants
Schools
Warehouses
Hotels
Property management
Doctors' offices
In this day and age, all it takes is one online post made about your establishment having pests for your hard-earned reputation to be hurt. What's worse than a public relations nightmare is if the pests in your business cause anyone (employee or patron) to become ill, which could easily spread to a wider population of people, generating an epidemic. Let us help you with comprehensive commercial pest control services that attack the problem at its source, eliminating your existing infestation and stopping new ones from occurring. Give us a call today!
A Practical Guide To Ant Control For Your Eatontown Home
When it comes to effective ant pest control, it takes an expert on the different types of local ant species to help you permanently eliminate them from your Eatontown home. However, there are some things you can do every day to help prevent them from wanting to set up shop in your house in the first place:
Organic debris, such as logs and stumps, are appealing to ants, and they will flock to your yard if you have a lot of them hanging around. Keep them out of your vicinity by regularly cleaning your yard up.
Because ants invade homes looking for food, be sure to store your food in properly sealed containers, making the place less appealing to ants.
Be sure to thoroughly clean up all food messes, such as crumbs and spills, as soon as they happen. In doing so, you lower your chances of experiencing an ant infestation in your kitchen.
At BHB Pest Elimination, an expert technician will help pinpoint everywhere ants could be coming into your home, as well as all the reasons they are attracted to your house in the first place. We offer specialty ant pest control services to ensure your home stays ant-free year-round.
All The Problems Rodents Can Cause In Your Eatontown Home
Eatontown residents may experience an infestation of many different types of rodents, including mice, rats, and squirrels. Not only can these rodents cause a lot of physical damage to your home and belonging in the way of chewing and gnawing things, but they can also spread dangerous diseases, such as:
Rat-bite fever: While being bitten by a rat can definitely spread this illness; you don't have to receive a bite; you can contract this disease simply by being exposed to urine, feces, and nesting material. Symptoms include a fever, skin rash, headaches, vomiting, and muscle pains.
Hantavirus: Despite having no specific treatment, hantavirus is life-threatening without immediate medical attention. Symptoms usually consist of a fever, fatigue, muscle aches, abdominal pain, nausea, and vomiting.
Plague: The original plague is still alive and well and can be spread by any of the different types of rodents that invade Eatontown homes. If exposed to rodents carrying plague-infected fleas, your lungs and immune system will be severely affected, and death is the outcome without immediate medical assistance.
Because of the serious nature of rodent-transmitted diseases, BHB Pest Elimination stresses that you contact a professional for comprehensive rodent elimination. Our technicians have the training to exterminate rodents thoroughly, safely, and effectively. Give us a call today!
Using his years of experience and dedication to helping others, BHB Pest Elimination's owner Michael Broder not only puts an end to all your pests problems but advises on how to run your business as well!
Our Business Strategy
"RUN" Your Business! by BHB Pest Eilimination
Reliable
Pest Control Services
In business since 1969, BHB Pest Elimination is the best choice for complete pest elimination. Providing long-term solutions for homes and businesses, we find the source of your pest problem so that we can treat the root cause and not just the symptoms. When you choose BHB Pest Elimination, you don't have to settle for pest control; you can demand elimination because that's what we deliver.
"Very happy with the service and the follow-up to make sure we had a good experience. Jessy was great and always kept us informed of what he was doing and the next steps. I will defiantly use BHB for my Pest Control again."
Request a Free Inspection
Contact Us