Deer Park, NY Pest Control
Pest Control In Deer Park, New York
Known for its safe community and welcoming residents, Deer Park is one of the best places to live in Suffolk County. Most residents own their homes, and the community and its amenities are perfect for settling down and raising a family or retiring to enjoy a relaxing day-to-day lifestyle.
Unfortunately, encountering pest issues in Deer Park can put a stop to this relaxing period and bring a significant amount of stress to your home or business. Here is where Suffolk County pest control is essential to stop pest invasions and maintain the safety of your property.
At BHB Pest Elimination, we can pride ourselves on keeping both homes and businesses completely pest-free. We use high-quality products and tailored pest control solutions to protect your property and keep pests out year-round.
Contact us today to learn more about our pest control offerings and to get started keeping your Deer Park home or business completely pest-free.
Residential Pest Control In Deer Park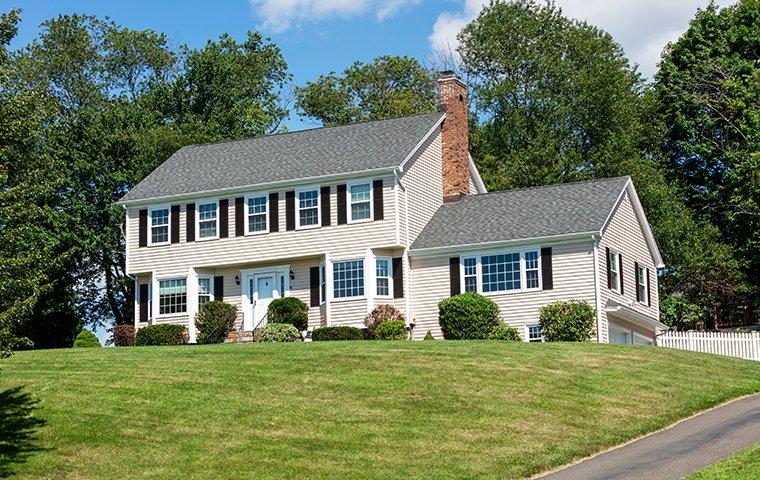 Any type of pest infestation in your Deer Park home can lead to significant problems, including the destruction of your home's internal structures, deterioration of your yard, and health risks for you and your loved ones. Fortunately, at BHB Pest Elimination, we're prepared to deal with all of your residential pest control needs.
From the moment you contact our technicians about your pest issues, we make sure to listen carefully and consider your concerns. We address your pest problems by completing a thorough inspection of both the inside and outside of your property. We customize treatment solutions based on what we see and work to eliminate any conditions that are conducive to pest infestations. We also help you identify and seal entry points that encourage pests to invade your home.
Our residential pest control plans are complete with follow-up services, so you can rest assured that your home will be safe from reinfestation and ultimately kept pest-free year-round.
Commercial Pest Control In Deer Park
When it comes to keeping your business pest-free, we at BHB Pest Elimination know that you need only the best, most efficient service to protect your property. We have significant experience safeguarding commercial properties such as doctor's offices, warehouses, schools, restaurants, and hotels against pest infestations, and we waste no time addressing your pest infestation issues.
We make sure to start every commercial treatment plan with a discussion and evaluation of your property's needs – this helps us tailor our commercial pest control solutions and provide you with more efficient, fast-acting services. After our technicians complete a thorough inspection of the interior and exterior of your property, we get to work addressing active pest infestations and protecting your property from further pest issues.
Contact us today to get started and keep your business safe from pests.
How Dangerous Are Bed Bugs In My Deer Park Home?
Bed bugs are one of the trickiest pests to deal with in your Deer Park home due to their small size and the way they infiltrate your property without even being noticed. And even though bed bugs aren't poisonous, they can leave itchy bumps putting you at risk of secondary infection and anxious, sleepless nights.
Signs that bed bugs may be widespread throughout your home include:
Reddish staining on sheets, furniture, carpets, and walls
A musty or unpleasant odor in areas where lots of bed bugs gather
Visual sightings of bed bugs in sleeping quarters, on furniture, or hidden in wall cracks
Letting an infestation of bed bugs go uncontrolled in your Deer Park home can quickly result in health risks and ruin the peace of your home, which is why you should contact BHB Pest Elimination at the first sign of this insect.
Mosquitoes & Dangerous Disease: What Deer Park Residents Ought To Know
Mosquito populations around your Deer Park property are not just a nuisance. This pesky insect flies around and delivers bites – it can be dangerous thanks to the many diseases that mosquitoes carry. And while not all mosquitoes are infected, the more mosquitoes you have hanging around your property, the higher your chances of encountering a mosquito carrying an illness such as Zika virus, West Nile virus, or malaria.
To prevent large mosquito populations from settling around your property, you can implement several prevention tactics such as clearing out any areas of standing water to stop mosquito breeding, treating water features like birdbaths and ponds, and trimming back long grass or overgrown foliage.
Additionally, reach out to us at BHB Pest Elimination for further assistance in eradicating mosquito infestations from your property.
Using his years of experience and dedication to helping others, BHB Pest Elimination's owner Michael Broder not only puts an end to all your pests problems but advises on how to run your business as well!
Our Business Strategy
"RUN" Your Business! by BHB Pest Eilimination
Reliable
Pest Control Services
In business since 1969, BHB Pest Elimination is the best choice for complete pest elimination. Providing long-term solutions for homes and businesses, we find the source of your pest problem so that we can treat the root cause and not just the symptoms. When you choose BHB Pest Elimination, you don't have to settle for pest control; you can demand elimination because that's what we deliver.
"Very happy with the service and the follow-up to make sure we had a good experience. Jessy was great and always kept us informed of what he was doing and the next steps. I will defiantly use BHB for my Pest Control again."
Request a Free Inspection
Contact Us