Princeton, NJ Pest Control
Trusted Pest Solutions For Princeton, NJ Properties
Princeton, NJ, is an idyllic town known for being home to one of the most prestigious universities in the country. The ivy-covered buildings and brick sidewalks give this town an unmatched charm that is simply irresistible. It's so irresistible pests are eager to settle down here. These intruders get into our homes and businesses, looking for food, water, and shelter. That means we're exposed to pest infestation, which can be very dangerous for our properties and those inside them. The best method of pest protection is ongoing services from pest professionals.
If you're looking for year-round pest coverage for your Princeton home or business, you've come to the right place. BHB Pest Elimination is a family-owned and operated company that works hard to develop long-term solutions to eliminate local pest problems. Our approach to pest control is to treat the problem in a proactive way, not a reactive way. We're proud to service properties throughout the NYC metro area, including New Jersey, Long Island, Westchester, and Pennsylvania. Call us today to learn more.
Home Pest Control In Princeton, NJ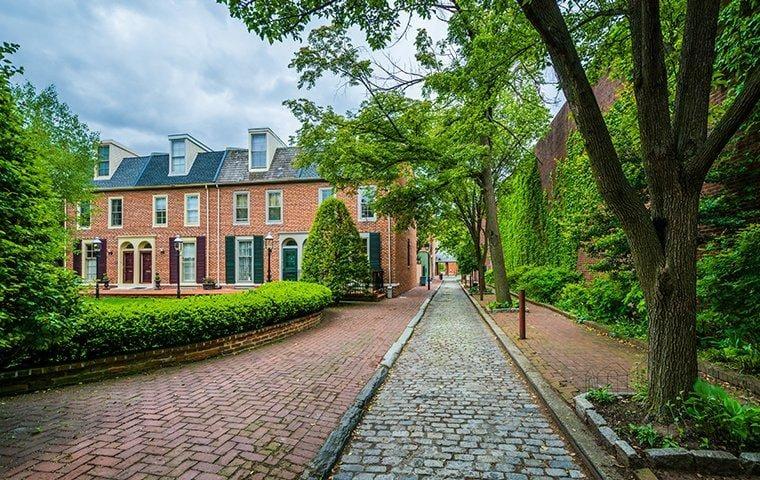 BHB Pest Elimination is here to help protect your home and your loved ones from household pest infestation.
Our residential pest solutions give you guaranteed coverage you can trust. We're more than a pest control company; we're a pest elimination company.
We get to the root of your pest problem, treating the infestation in a thorough, detailed manner that gives you the lasting results you're looking for. As we always say, "don't settle for pest control, demand elimination."
Get in touch with us today to hear more about our BHB home protection plans and how they can guard you against harm all year long.
Commercial Pest Control In Princeton, NJ
The team at BHB Pest Elimination provides complete commercial pest control solutions to a long list of facilities, some of which include hotels, restaurants, bars, warehouses, office buildings, schools, and doctor's offices. Our team works hard to guard your business against a long list of common pests, some of which include ants, rodents, flies, mosquitoes, bed bugs, termites, crickets, stinging insects, and pantry pests.
After conducting a thorough interior and exterior inspection of the premises, we develop a customized treatment strategy to target the nature of your infestation specifically. We also provide follow-up treatments as needed to keep your facility protected moving forward. In addition to our basic pest control service, we also offer treatments for ants, termites, flies, stinging insects, mosquitoes, bed bugs, crickets, and rodents. Contact us today to discuss your commercial pest control needs.
Four Ant Control Techniques To Stop An Infestation In Your Princeton Home
Ants are so tiny that they can fit into the smallest openings around your property to gain access to your home. Once they get inside, they breed rapidly and grow their populations to massive proportions. Ants build their colonies all over the place, reaching all the nooks and crannies on your property. Here are four ways to keep ants away from your Princeton home:
Seal off entrances, and block off access points by repairing cracks and crevices along the foundation.
Spray an ant barrier insecticide around your home.
Eliminate access to food by keeping it in airtight containers.
Wipe down surfaces and clean spills and messes promptly to eliminate food remnants.
It's great to be proactive in your ant prevention efforts, but none of these tips are 100% effective on their own. Your best source for quality ant control and prevention is the team at BHB Pest Elimination. Our team is experienced in the complete detection and extermination of ant populations, so reach out to us today to hear more about our ant control solutions.
Here's How To Rid Your Princeton Yard Of Wasps
When you get stung by a wasp, it can swell, burn, and cause severe allergic reactions, depending on the individual who is bitten. If you want to do everything you can to prevent wasps nesting in your Princeton yard, here are some effective methods of prevention to put in place:
Cover holes in the ground with cement or grass, and use caulking to seal cracks and crevices around the porch.
Eliminate food sources (human and pet food) and don't leave food outside.
Pick up trash and clean spills as soon as they happen.
Keep garbage cans tightly sealed, and cover any piles of compost.
Keep all doors and windows shut when possible.
Use wasp-repelling plants like wormwood, marigold, mint, basil, and geranium.
These tips are a great starting point, but it's still important to secure protection from pest professionals. BHB Pest Elimination proudly offers complete wasp control services that minimize the presence of these stinging insects around your property. Get in touch with us to schedule an inspection right away.
Using his years of experience and dedication to helping others, BHB Pest Elimination's owner Michael Broder not only puts an end to all your pests problems but advises on how to run your business as well!
Our Business Strategy
"RUN" Your Business! by BHB Pest Eilimination
Reliable
Pest Control Services
In business since 1969, BHB Pest Elimination is the best choice for complete pest elimination. Providing long-term solutions for homes and businesses, we find the source of your pest problem so that we can treat the root cause and not just the symptoms. When you choose BHB Pest Elimination, you don't have to settle for pest control; you can demand elimination because that's what we deliver.
"Very happy with the service and the follow-up to make sure we had a good experience. Jessy was great and always kept us informed of what he was doing and the next steps. I will defiantly use BHB for my Pest Control again."
Request a Free Inspection
Contact Us