Effective Pest Solutions For Ardmore, PA Properties
Located only miles outside of Philadelphia, the community of Ardmore has blossomed into one of the area's most desirable places for young families and working individuals to live. Filled with locally-owned restaurants, bars, coffee shops, well-maintained parks, and public schools that are as good as it gets in Pennsylvania, Ardmore provides its residents with an urban/suburban mix that so many people seek. The area has mild conditions for most of the year, with a changing seasonality that residents can trust. But even with temperate falls and springs, there are regular opportunities for pests to become a problem on your property. That's why for more than 50 years, homeowners and businesses have been entrusting their safety to BHB Pest Elimination. With our emphasis on reliable results that follow strict Integrated Pest Management protocols, we're able to keep pests off of your property no matter the season. For more information on how you can benefit from our services, contact us today.
Home Pest Control In Ardmore, PA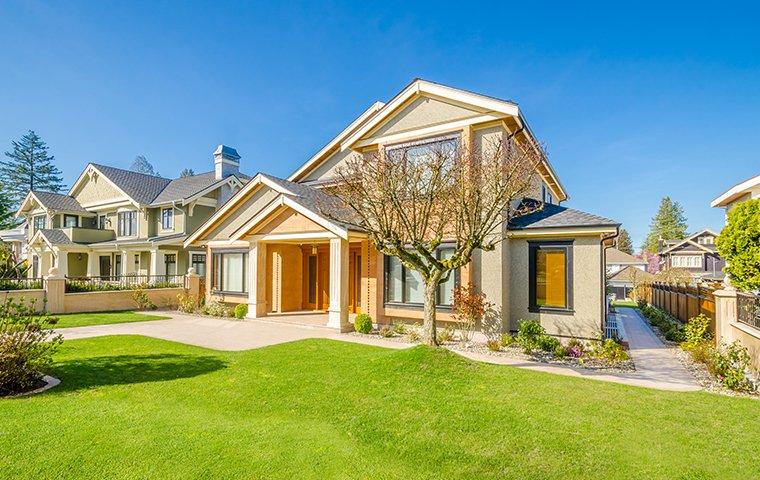 At BHB Pest Elimination, we've been servicing Ardmore families since 1969. And as the area's local experts, we know how stressful handling pest infestations can be and the negative impacts they can have on your daily life. That's why it's our mission to make the residential pest control process as easy as possible. We always begin by dispatching our Green Shield certified technicians to your home for an initial inspection that is free of charge and thorough. During this time, we're working to understand how pests have found your home or how they could invade in the future. By implementing treatments and measures guided by Integrated Pest Management and following up with you quarterly, we can ensure that pests are no longer an issue. With general pest control services, we're able to keep your home safe no matter the season; however, if you're looking for pest-specific solutions, we offer those as well. At BHB Pest Elimination, we specialize in targeted answers for termites, wildlife, rodents, bed bugs, ants, and more. Whatever your pest problems are, we can help you fight them.
Contact us today for more information on how we can help protect your home with residential pest control services.
Commercial Pest Control In Ardmore, PA
The impact can be devastating when even the smallest pest makes its way inside your Ardmore business. Pests of any kind are enough to force you to close your doors, putting everyone's health at risk and costing you lost income in the process. At BHB Pest Elimination, we look to avoid that entire scenario with Integrated Pest Management (IPM) based solutions for commercial pest control for your business. Following IPM means that we will get to the root cause of your issues and solve them using safe and reliable solutions that keep your property and people protected all year long. It also means that you'll receive a customizable treatment and maintenance plan designed to meet your needs and no one else's. At BHB Pest Elimination, we believe in eliminating pests, not controlling them. So when you partner with us, you can rest assured that your business is pest-free. With more than 50 years of experience working with commercial customers of all sizes and industries, we're the team you need to keep your investment secure. Contact us today if your business could benefit from ongoing commercial pest control solutions.
All The Ways You Can Pick Up Bed Bugs Around Ardmore
While Ardmore may seem like a quaint suburb, bed bugs are not just a city pest but rather a very common occurrence. Some of the ways that you can pick up bed bugs and spread them in your home or business are:
Having a wildlife or rodent problem on your property
Going to the movies or any other public spaces
Coming into contact with upholstered items
Traveling, staying in hotels, or taking public transportation
Bringing home used items like furniture, mattresses, or kitchen appliances
Moving into a home in a home that already housed a bed bug infestation
Living in an apartment building that has shared walls
Regardless of how you contact bed bugs, they can be a very uncomfortable problem to be saddled with and require professional attention. Contact BHB Pest Elimination for bed bug control today so that you can sleep easy tonight.
A Practical Guide To Carpenter Ant Control In Ardmore
While many people think that termites are a more common perpetrator of wood-related issues in Ardmore, the carpenter ant can be just as damaging, if not more. To keep carpenter ants out of your property, try these tips:
Trim back any overhanging tree branches, hedges, shrubbery, or other greenery from your property.
Always maintain at least a four-inch barrier between any mulch that you use and your foundation.
Check your roof for leaks routinely.
Clear your gutters of leaves and other yard debris regularly.
Seal up any cracks in your foundation and pay special attention to the areas around electrical wiring, pipes, and gutters.
Stack firewood at least 20 feet away from your home.
For the ultimate protection from carpenter ants and the severe damage they cause, contact BHB Pest Elimination today and ask about our carpenter ant control options.
Reliable
Pest Control Services
In business since 1969, BHB Pest Elimination is the best choice for complete pest elimination. Providing long-term solutions for homes and businesses, we find the source of your pest problem so that we can treat the root cause and not just the symptoms. When you choose BHB Pest Elimination, you don't have to settle for pest control; you can demand elimination because that's what we deliver.
"Very happy with the service and the follow-up to make sure we had a good experience. Jessy was great and always kept us informed of what he was doing and the next steps. I will defiantly use BHB for my Pest Control again."
Request a Free Inspection
Contact Us