Morristown, NJ Pest Control
Pest Control In Morristown, NJ
Morristown, NJ, is forever remembered as a central military location during the Revolutionary War. All these years later, this rich history can be seen all over the city. Dozens of cultural and historical landmarks make up the Morristown National Historical Park, a feature that draws many tourists. Because of this and its bustling economy and proximity to Newark and New York City, people have been flocking to Morristown, causing Morris County pest control needs to increase significantly. At BHB Pest Elimination, we meet these growing needs by providing complete pest elimination services for Morristown home and business owners. Read on to learn how!
Residential Pest Control In Morristown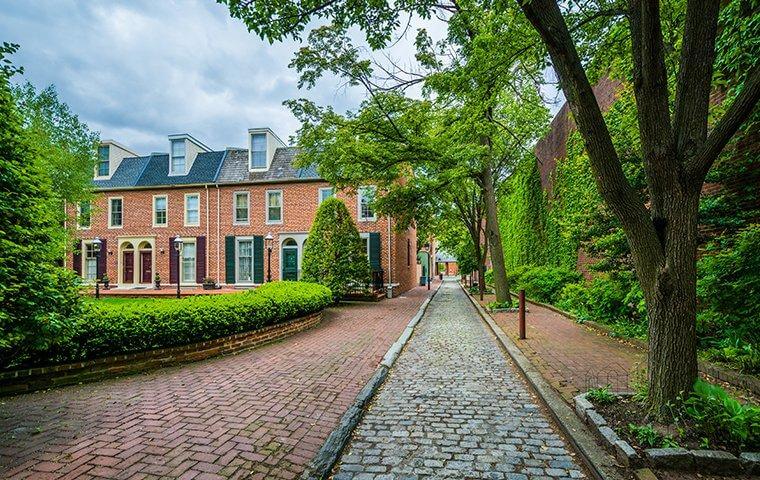 At BHB Pest Elimination, we believe that every single home deserves to be pest-free and secure from new infestations. That's why we provide complete residential pest control services that do much more than general pest control. When you partner with us, you partner with over fifty years of residential pest control experience and a pest-free guaruntee. This guarantee comes from our mission to eliminate your pest problems for good. To do this, our technicians:
Complete a thorough inspection to identify the source of your infestation and gain knowledge of your property.
Use that information to design and implement a customized treatment that eliminates existing infestations, monitors for new ones, and prevents further infestations.
Quarterly follow-up visits then provide proactive services to continue to protect your home from next season's pests.
Don't settle for mediocre control services. You deserve to live in a home that is entirely free of pest infestations. At BHB Pest Elimination, we are dedicated to providing superior elimination services to secure your home year-round. Give us a call for help today!
Commercial Pest Control In Morristown
No matter what type of facility you have, BHB Pest Elimination has commercial pest control services to help you keep your business safe from pests. We follow the same in-depth formula for our commercial sites as we do our residential clients and provide the same high-quality elimination services to the following types of Morristown establishments:
Doctor's offices
Hotels
Property management
Restaurants
Schools
Warehouses
One of the many reasons our commercial pest control services stand out from our competition is our use of Integrated Pest Management strategies, which keeps harmful chemicals out of your place of business. Additionally, we are Green Shield Certified. We don't just treat your business and leave. We build lasting relationships with our commercial clients and value the opportunity to teach them how to keep their businesses secure and safe from infestations. Reach out to us to get your business's protection plans started today!
All The Problems Rodents Can Cause In Your Morristown Home
There are many types of rodents here in Morristown, and they are all capable of causing a severe amount of damage. Below are some of the ways they can cause harm to you and your property:
Constant chewing: Rodents have teeth that continuously grow throughout their life. As a result, they chew on things to wear them down and keep their teeth from growing too long. This leads to them chewing through your precious family heirlooms, storage boxes, wires and cables, furniture, and anything else you may have stored on your property.
Diseases: No matter what types of rodents are present on your property, there is a good chance you will be exposed to a harmful disease or two. Rodents don't even need to bite or scratch you to transfer this illness to you, as you could get sick through exposure to their feces, urine, or nesting materials.
Terrible odors: Because they tend to crawl through walls, a rodent can become stuck and die. This releases a terrible odor that permeates your walls and throughout your property.
BHB Pest Elimination specializes in preventing and eliminating all rodent activity in Morristown properties. We don't want you to risk becoming ill because of exposure to these pests. Give us a call for expert assistance today.
The Best Way To Get Rid Of Bed Bugs In Your Morristown Home
There is only one way to have effective bed bug control: seek the help of a professional. These are one of the most difficult pests to get rid of once they have set up shop in your home. Below are some of the ways you can prevent them from gaining access to your home:
Don't bring in used furniture: While we all love a good deal or thrift shopping, bringing home used furniture could be one easy way for bed bugs to get inside your home. So, when buying these items, inspect them for signs of bed bugs first.
Be cautious where you set your bags in public: Whenever you are out and about, be very thoughtful about where you put your bags. Setting them on cushions and carpets could allow bed bugs to crawl inside your bag and hitch a free ride back to your place. The same warning goes for you and where you sit down.
Use a mattress cover: If bed bugs have somehow gained access to your home, be prepared by already having a good mattress cover over your bed, as this will keep them from being able to burrow inside your mattress.
At the first sign of an infestation, call BHB Pest Elimination for help. Our expert bed bug control technicians have the tools needed to root out and eliminate your problem. Don't let these pests ruin your sleep for even a single night. Call for help evicting them!
Using his years of experience and dedication to helping others, BHB Pest Elimination's owner Michael Broder not only puts an end to all your pests problems but advises on how to run your business as well!
Our Business Strategy
"RUN" Your Business! by BHB Pest Eilimination
Reliable
Pest Control Services
In business since 1969, BHB Pest Elimination is the best choice for complete pest elimination. Providing long-term solutions for homes and businesses, we find the source of your pest problem so that we can treat the root cause and not just the symptoms. When you choose BHB Pest Elimination, you don't have to settle for pest control; you can demand elimination because that's what we deliver.
"Very happy with the service and the follow-up to make sure we had a good experience. Jessy was great and always kept us informed of what he was doing and the next steps. I will defiantly use BHB for my Pest Control again."
Request a Free Inspection
Contact Us