Pest Control In Newark, NJ
Newark is a vibrant, diverse city with a lot to offer visitors. From the Newark Museum to the Prudential Center, there are plenty of attractions to keep you busy. And with a variety of restaurants and bars, you'll never go hungry or thirsty in Newark.
Behind the scenes, Newark is also home to multiple pests that can cause residents and local businesses problems. From bed bugs to rats to cockroaches, these pests can quickly take over your home or business and wreak havoc.
Fortunately, there are Newark County pest control professionals who can help. BHB Pest Elimination is one of them. We're one of the most established family-owned pest control companies in the area, and we're proud to serve Newark and the surrounding communities.
Since 1969, we've strived to provide our customers with the best possible service. We understand how important it is to get rid of pests quickly and efficiently, so we offer field-tested solutions backed by our pest-free guarantee.
If you're ready to get rid of pests for good, call us. Request your free inspection today!
Residential Pest Control In Newark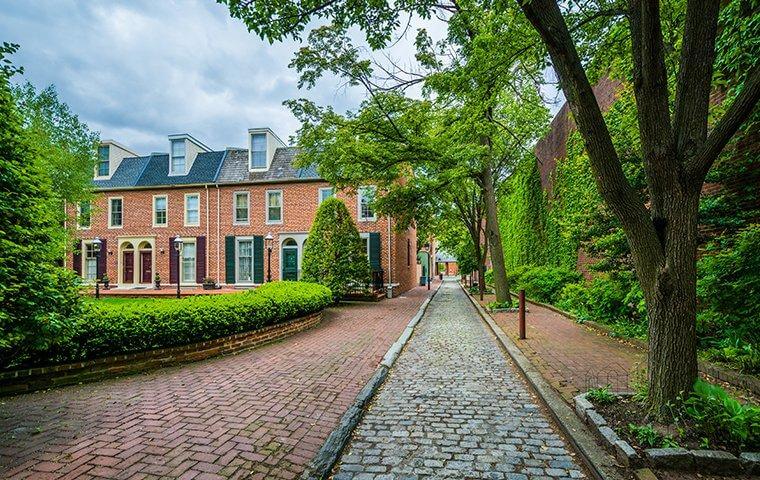 As a family-owned and operated business, we appreciate how important your home is to you. It's not just a place to live; it reflects your hard work and dedication.
We're committed to providing our Newark customers with the best possible residential pest control services.
Our home pest control services are designed to target the most common pests in the area, including:
Cockroaches: These pests are both unsightly and dangerous. They can carry diseases and contaminate your food.
Bedbugs: These critters are notoriously difficult to get rid of, but we have the experience and expertise to do it quickly and efficiently.
Rats: Rats can carry a variety of diseases, and they're also known for destroying property. If you see rats in your home, call a professional right away.
Ants: While ants may not be as dangerous as some of the other pests on this list, they can still be nuisances. They can also sting, bite, or cause allergic reactions.
As soon as we receive your call, we will schedule an appointment for one of our inspectors to come to your home.
Our inspector will look for signs of pests and identify the type of pests you're dealing with during the inspection. Based on the inspection results, we'll develop a customized plan to get rid of pests and keep them from coming back.
You can rest assured that our team will do whatever it takes to protect your home and keep your family safe.
Request a free inspection today.
Commercial Pest Control In Newark
BHB Pest Elimination is proud to offer commercial pest control services to businesses in Newark, NJ. We understand that every business is unique and operates under different regulations, so we customize our solutions for each of our clients.
Once we come to your place of business, we will thoroughly inspect the property to identify the pests you're dealing with. This includes the interior and exterior of the building.
Using the Integrated Pest Management methodology, we will develop a plan to eliminate the pests. We will also offer you suggestions on how to prevent future infestations.
Some of the commercial sectors we serve include:
Doctors' offices
Hotels
Property management
Restaurants
Schools
Warehouses
We offer emergency and same-day services where possible, so don't hesitate to call us if you're dealing with a pest problem.
At BHB Pest Elimination, your satisfaction is our top priority. We're not satisfied with simply eradicating the pests. We also want to make sure that they don't come back.
We're Green Shield certified and are on the Board of Directors for the New York Pest Management Association. This ensures that we're always up-to-date on the latest industry news, technology, and regulations.
Keeping Mosquitoes Out Of Newark Homes And Yards
According to the CDC, approximately 200 mosquito species are found in the continental United States and US territories.
Of those 200 species, about 12 of them are known to transmit diseases to humans.
The list of diseases caused by mosquitoes includes:
Zika virus
West Nile virus
Malaria
Dengue fever
Chikungunya virus
While there's no guaranteed way to keep mosquitoes out of your property altogether, there are steps you can take to reduce the population. Consider the following:
Eliminate any standing water on your property, as mosquitoes lay their eggs in water. This includes pools, birdbaths, and rain gutters.
Ensure that your doors and windows have tight-fitting screens.
Consider using mosquito traps and mosquito repellent.
Ensure your yard is well-trimmed, as mosquitoes hide in tall grass.
These tips will help reduce the mosquito population on your property, but they're not foolproof. If you're still seeing mosquitoes, or are concerned about the risk of contracting a disease, call BHB Pest Elimination.
Our mosquito control products and services target all the mosquito's life stages. This includes eggs, larvae, pupae, and adults.
Why Yellow Jackets Invade Newark Properties During The Late Summer
Yellow jackets are a type of wasp that is commonly found in the Newark area. They're identified by their yellow and black stripes and can grow to be about 1/2 inch long. Yellow jackets are known to be aggressive and will sting if they feel threatened.
While they're not usually considered dangerous pests, they can become a problem during the late summer months. They're attracted to sweet things, like fruits and nectar.
Yellow jackets will also invade picnics and barbecues in search of food. If you're having an outdoor event, keep food covered as much as possible.
Should you come into contact with a yellow jacket, remain calm. Swatting at them will only make them more agitated and more likely to sting.
If you or someone you know is allergic to wasps incur a sting, call 911 immediately. Otherwise, wash the area with soap and water and apply a cold compress to reduce swelling.
Call BHB Pest Elimination if you're having problems with yellow jackets or any other types of wasps on your Newark property. Our team is trained to safely and effectively remove wasps nests.
Using his years of experience and dedication to helping others, BHB Pest Elimination's owner Michael Broder not only puts an end to all your pests problems but advises on how to run your business as well!
Our Business Strategy
"RUN" Your Business! by BHB Pest Eilimination
Reliable
Pest Control Services
In business since 1969, BHB Pest Elimination is the best choice for complete pest elimination. Providing long-term solutions for homes and businesses, we find the source of your pest problem so that we can treat the root cause and not just the symptoms. When you choose BHB Pest Elimination, you don't have to settle for pest control; you can demand elimination because that's what we deliver.
"Very happy with the service and the follow-up to make sure we had a good experience. Jessy was great and always kept us informed of what he was doing and the next steps. I will defiantly use BHB for my Pest Control again."
Request a Free Inspection
Contact Us