Keep Wood-Destroying Termites Out Of Your New York City Home
Termites are a pest that everyone knows is problematic, but most people assume it won't be a problem. This kind of thinking is understandable. You'll rarely see termites out in the open, and they can take a couple of years of being in a house before you see their destructive handiwork.
Being out of sight and mind might work well for the termites, but it can be disastrous for homeowners. Because they spend their time hiding away, knowing how to prevent termites in the first place is critical. Protecting your New York home from termites should be a priority, not only for the safety of the people living in your house but also for the financial savings. Taking proactive measures against termites is far less costly than paying for structural repairs to your home after they've occurred.
If you want to protect your Garden City house from termites before they have a chance to invade or suspect termites might already be in your home, BHB Pest Elimination can help. We offer termite elimination and protection services to stop active infestations and prevent future ones.
Our Termite Control Offerings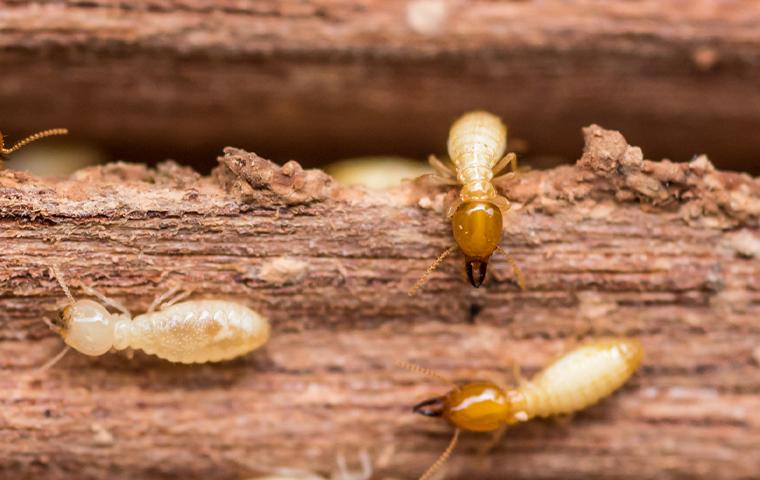 Inspection
Determining whether or not you have an active termite infestation in your house is a crucial first step in the termite control process. Although it's unnecessary to have termites in your home to receive treatment, knowing if you have an active infestation allows us to target our treatments to the appropriate areas to ensure the most effective results.
We'll look for any signs of termite activity and damage during our inspection. We inspect your home's interior and exterior, including decks, porches, fences, and basements. We also look for termite swarms. If you've seen termite activity, we ask that you photograph it and send us the pictures.
Once our inspection is complete, we'll put together a proposal for treatment that includes an estimate for our services. If you approve the proposal, we'll schedule an initial service visit.
Initial Treatment
BHB Pest Elimination offers several methods of termite treatments. Depending on the findings of our inspection and the proposal you approve, we'll perform one or a combination of the following methods:
Drilling & injecting: The drilling and injecting termite treatment method involves drilling holes into the concrete of your foundation, where we've found signs of termite activity. We then inject a liquid product into the concrete and seal the holes.
Trenching & rodding: Like drilling and injecting, the trenching and rodding termite treatment method gets deeper into the soil. We'll drill holes through the basement or garage floor and put the treatment below the slab, then fill the gaps back in with cement.
Borate wood treatments: We'll apply a liquid directly to wooden elements in your house for borate wood treatments. The liquid is absorbed into the wood and kills any wood-destroying insects that come in contact with it.
Bait stations: Bait station termite treatments involve the installation of termite bait stations. We place these in the soil around the exterior perimeter of your house every ten feet or so.
Follow-Up
Our termite treatments come with a one-year renewable and transferable warranty. Each yearly renewal includes an inspection.
Wood-Destroying Insect Reports
In addition to our termite control treatments, we also offer a Wood-Destroying Insect Report service. Lenders sometimes require this service during the home buying process. We'll inspect the house for any signs of activity or damage by termites or other wood-destroying organisms. We'll then write up the required report and provide you with copies to deliver to the appropriate parties or for your records.
Even if your lender does not require this inspection, we highly recommend doing it before closing on your new home. Like standard home inspections, it will protect you from discovering that there are major issues with the house after the sale is final.
Protection From NYC Termites Starts With BHB Pest Elimination
Whether you have termites already chewing tunnels through your house or you want to stop them before they have a chance to start, BHB Pest Elimination can help. We'll tailor a termite program to your needs to eliminate any active infestations you might have while also working to prevent termites from getting into your house in the future.
If your home is currently unprotected, it's time to contact BHB Pest Elimination for effective home pest control and commercial pest control services.
Request Your Free Inspection
Complete the form below to schedule your no obligation inspection. Only weekday appointments.